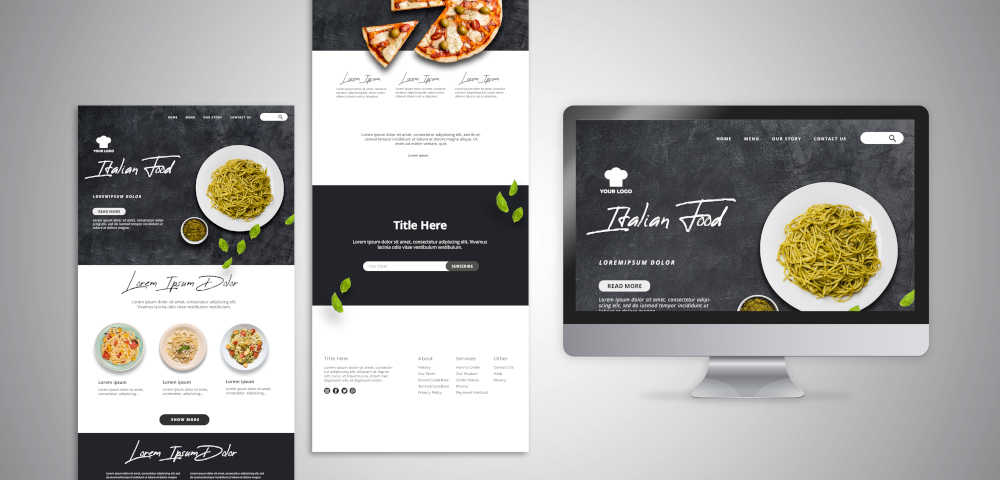 Your Trusted
Responsive
SEO Friendly
Corporate
eCommerce
Startup
Website Design Company
Designing mobile responsiveness & pixel-perfect web presence for the best user experience.
Welcome to Max Vision Solutions, where we transform your digital aspirations into stunning web realities. In today's dynamic business environment, a well-crafted website is your gateway to success. It's more than a digital business card; it's the cornerstone of your online presence. Max Vision Solutions is a leading Website design company, known for its quality-driven approaches, innovative services, and creativity-motivated designing practices. Online presence, especially websites and blogs, is necessary for any business as it drags customers.
Understanding Website Design
Website design isn't just about creating a visually appealing page. It's the process of strategically combining design elements, user experience, and functionality to create a website that doesn't just look good but performs exceptionally well. It's the art and science of making an impactful first impression on your digital audience. At Max Vision Solutions, we believe that a great website should embody these core principles:
Mobile-Responsiveness
With the majority of internet users accessing websites from mobile devices, it's imperative that your site looks and functions seamlessly on smartphones, tablets, and desktops.
Customization
Your website should reflect your unique brand identity and goals. One size doesn't fit all, and we design with your specific needs in mind.
User-Centricity
A website should be user-friendly and intuitive. Our focus is on creating experiences that engage and delight your visitors.
SEO-Friendly
A beautiful website is of little use if it's not easily discoverable. Our SEO-friendly designs ensure that your website ranks well on search engines, driving organic traffic.
Latest Technology
The digital landscape evolves rapidly. We stay at the forefront of the latest technology trends to ensure your website remains contemporary and competitive.
Empowering Your Web Presence
MVS Website
Design

Services
With over 15 years of experience in the software development industry, we have established ourselves as a reliable and trusted partner for businesses worldwide. Our commitment to designing mobile-responsive, SEO-friendly, and custom websites sets us apart as a top-tier website design company.
Responsive Web Design
At Max Vision Solutions, we specialize in crafting mobile-responsive websites that adapt seamlessly to any device. Our design philosophy centers around providing exceptional user experiences by ensuring that your site looks and functions perfectly on smartphones, tablets, and desktops. With a strong focus on user-centricity and search engine optimization, we create websites that not only impress visitors but also rank well on search engines, driving organic traffic to your digital doorstep. Choose us for responsive web design that sets you apart in the digital landscape.
E-commerce Website Design
Max Vision Solutions is your trusted partner for exceptional
e-commerce website design services
. Our experienced
website designers
, supported by our 15 years of industry expertise, create visually appealing, user-friendly, and SEO-optimized online stores. We focus on enhancing user experience, and ensuring your website stands out in the competitive e-commerce landscape. As a
website design company
, we craft digital success stories, boosting your sales and brand visibility. Choose us for e-commerce website design services that drive results.
Corporate Website Design
Max Vision Solutions specializes in crafting corporate website designs that exemplify professionalism and unique brand identities. With over 15 years of industry experience, we understand the importance of creating websites that convey trust and expertise. Our designs are responsive, SEO-friendly, and user-focused, ensuring seamless functionality on all devices. Choose us as your website design company to present a professional digital facade, and make a lasting impression in the corporate world.
Custom Website Design
Max Vision Solutions excels in custom website design, providing a unique and captivating digital identity for your brand. Our expert team collaborates closely with you to understand your vision, goals, and brand personality. We then translate this understanding into a one-of-a-kind website that reflects your essence and captivates your audience. With our focus on creativity, innovation, and user experience, we create websites that make a lasting impression. Elevate your online presence with our custom website design services, where digital artistry meets strategic thinking.
UI/UX Design
At Max Vision Solutions, we offer UI/UX design services that prioritize user-centricity. Our experienced team of website designers crafts visually stunning, intuitive, and SEO-friendly interfaces. With a keen eye for responsive design, we ensure seamless functionality across all devices. As a website design company, we focus on creating digital spaces that captivate visitors, enhance engagement, and boost your online presence. For UI/UX design that leaves a lasting impact, trust in our 15 years of industry experience.
CMS Website Design
Max Vision Solutions offers CMS website design services to simplify content management for your online platform. Our expert website designers create user-friendly, SEO-optimized websites that empower you to easily update and maintain your content. With a focus on responsive design, we ensure your website adapts to all devices seamlessly. Choose us as your website design company for effortless content management and a strong digital presence.
Consult for Your

Website Design

Project
Let our seasoned website design experts guide your project to success, delivering innovative and user-friendly digital solutions
Your Digital Success Starts Here
Why Choose MVS for Your
Website Design

Projects


In today's digital age, a well-designed website is a cornerstone of a successful business. Your website is often the first point of contact for potential customers, making it crucial to create a positive and lasting impression. At Max Vision Solutions, we understand the significance of this digital handshake. With over 15 years of experience in the industry, we have emerged as a trusted partner for businesses across the globe, providing top-notch website design services that drive digital success.
Choosing Max Vision Solutions as your website design partner is an investment in your digital success. Our legacy of excellence, client-centric approach, focus on user experience, and technological expertise combine to create websites that not only impress but also deliver tangible results. We've transformed countless visions into reality, and we're ready to do the same for you.
A Legacy of Excellence
Our journey in the world of website design began more than a decade ago, and since then, we have continually pushed the boundaries of creativity, innovation, and user-centric design. Our portfolio stands as a testament to our unwavering commitment to excellence. Each website design project we undertake is a unique opportunity to craft digital artistry that not only visually stuns but also serves a strategic purpose.
Responsive Web Design
In an era where mobile devices dominate, having a responsive website is paramount. Our expertise in responsive web design ensures that your site functions seamlessly on any screen, be it a desktop, tablet, or smartphone. This not only enhances the user experience but also plays a pivotal role in your website's ranking on search engines.
CMS Solutions
Content is king in the digital world. Our CMS solutions simplify content management, giving you the power to update and maintain your website with ease. You don't need to be a tech whiz to keep your digital space up to date.
State-of-the-Art Technology
The digital landscape is continuously evolving. We stay ahead of the curve by adopting the latest technology trends and best practices in website design. This ensures that your website is not just visually appealing but also technically sound and secure.
Client-Centric Approach
We understand that every business has distinct needs and aspirations. Therefore, we adopt a highly client-centric approach. We start by listening to you – understanding your vision, goals, and the unique identity of your brand. We believe that the key to exceptional website design is a deep appreciation of your story and your expectations. Our skilled and experienced team then transforms this understanding into a digital masterpiece that reflects your essence.
SEO-Friendly Designs
A beautiful website is of little use if it remains hidden in the depths of the internet. That's why we integrate
search engine optimization (SEO)
into our design process. Our websites are built to be easily discoverable, driving organic traffic and increasing your online visibility.
Serving Diverse Industries
We're not confined to a single industry. Our expertise extends across diverse sectors, serving businesses of all kinds. Whether you're in healthcare, finance, education, or any other industry, we have the experience and the creative expertise to craft your digital presence.
UI/UX Excellence
The look and feel of your website profoundly influence the user experience. Our UI/UX design experts ensure that visitors to your website have an enjoyable and intuitive journey. This emphasis on user-centric design is what makes the difference in captivating your audience.
Your Website, Your Identity
The Importance of
Website Design:

- A Comprehensive Guide
Your Digital Storefront
Imagine your website as your digital storefront. Just as you'd invest in creating an appealing, welcoming physical store, your website should be designed with the same care and attention. It's where visitors come to explore your products or services, learn about your brand, and ultimately decide if they want to engage with your business. An attractive, user-friendly website design can significantly enhance this experience.
First Impressions Matter
You've heard the saying, "You never get a second chance to make a first impression." This holds true in the digital realm as well. Your website's design is the first thing visitors notice, and it's the basis for their initial impression of your brand. A poorly designed website can deter potential customers, while a well-designed one can captivate and engage them.
Reflecting Your Brand
Your website should be a true reflection of your brand identity. Consistency in design, color schemes, and typography is crucial for brand recognition. Visitors should instantly recognize your brand when they land on your site. A cohesive website design builds trust and reinforces your brand's image.
Competitive Advantage
In most industries, your competitors have websites. To stay competitive, you need a website that not only matches but surpasses the quality and functionality of your rivals. A well-designed website can be a powerful differentiator, setting you apart in a crowded marketplace.
Building Credibility
A professionally designed website builds credibility. It shows that you've invested in your online presence and are committed to providing a high-quality experience for your customers. This credibility can be the deciding factor for potential customers choosing your business over others.
Effective Communication
Your website is a powerful communication tool. It can convey your business's mission, values, and unique selling points. Effective communication through design and content can help you connect with your audience on a deeper level.
Sales and Conversions
Ultimately, your website should drive action. Whether it's making a purchase, filling out a contact form, or signing up for a newsletter, a well-designed website can guide visitors toward these actions. Clear calls to action, strategically placed, can boost your conversion rates.
Serving Diverse Purposes
Websites are versatile. They can serve various purposes, from e-commerce platforms to information hubs. Your website design should align with your specific goals, whether that's selling products, providing information, or generating leads.
Website design is an essential component of your online success. It shapes your digital storefront, influences first impressions, and is crucial for brand identity, user experience, SEO, mobile responsiveness, and competitive advantage. A well-designed website builds credibility, enhances communication, and drives sales and conversions. Your website is your online ambassador, and its design can be the key to unlocking your business's full digital potential.
Your Questions Answered (FAQ)
MVS Website Design
Services

- (FAQ)
Q. What is website design?
Website design
is
the process of creating the visual elements and layout of a website. It involves a combination of graphic design, user interface (UI) design, and user experience (UX) design to create a website that is not only visually appealing but also easy to use and navigate.
Q.

Why is website design important?
A well-designed website can make a huge impact on your business. It can help you establish credibility and build trust with your customers, improve user experience, increase conversion rates, and ultimately drive more traffic and revenue to your website.
Q. What are the benefits of having a well-designed website?
A well-designed website can improve user experience, increase credibility, and help attract and retain customers. It can also improve search engine optimization (SEO) and make it easier for users to find and navigate your website.
Q. What does your website design process involve?
The MVS website design process involves several steps, including understanding your business and target audience, creating a design concept and wireframe, developing the website using the latest technologies and best practices, and testing. Wireframing involves creating a visual representation of the website's structure and layout. The designer will then create the actual design, which includes choosing colors, typography, and other visual elements. The design is then developed into a functioning website, and tested to ensure it works properly and is user-friendly.
Q. What is responsive web design?
Responsive web design is an approach to website design that ensures the website looks and functions properly on all devices, including desktop computers, tablets, and mobile phones. This is achieved by using flexible grids, layouts, and images that can adjust to different screen sizes.
Q. Can MVS design a website that is mobile-friendly?
Yes, the MVS can design a website that is fully responsive and optimized for all devices, including desktops, tablets, and smartphones. This ensures that your website looks and functions perfectly on any device, which is essential for delivering a great user experience and improving your search engine rankings.
Q. How long does it take to design a website?
The time it takes to design a website depends on several factors, such as the complexity of the design, the number of pages, and the functionality required. However, we typically aim to deliver a website within 4-6 weeks, depending on the scope of the project.
Q. How much does website design cost?
The cost of website design can vary widely depending on the complexity of the site, the number of pages and features, and the experience and expertise of the designer. At MVS, we provide custom quotes for each project based on the specific needs and goals of our clients.
Q. Does MVS provide website hosting and maintenance services?
Yes, MVS provides website hosting and maintenance services to ensure that your website is always up-to-date, secure, and running smoothly. MVS also offers ongoing support to help you make changes and updates to your website as needed.
Q. Can MVS design an e-commerce website?
Yes, MVS can design
e-commerce websites
that are customized to your business's needs and goals. This includes designing product pages, shopping carts, and payment processing features.
Q. Can MVS help with search engine optimization (SEO) for my website?
Yes, MVS offers SEO services to help improve your website's visibility in search engine results pages. This can include keyword research, on-page optimization, and link-building strategies to help drive traffic to your site.
Q. What types of websites do you design?
We design a wide range of websites, including e-commerce sites, portfolio sites, blogs, and corporate websites. We work closely with each client to understand their goals and create a custom design that meets their needs.